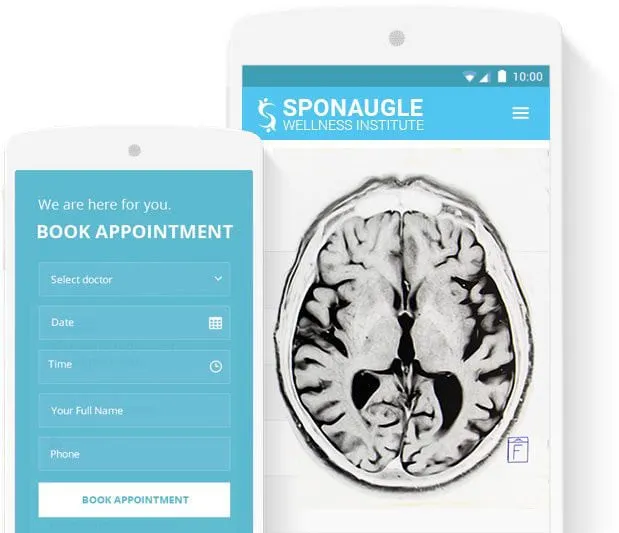 About Visual Realm
Industry leading SEO, marketing and web design firm since 2005.
We understand that choosing the correct Tampa digital ad agency is extremely important. Your web site is an investment in your business and a crucial marketing tool. It is estimated that over 90% of consumers research on the web before they make a purchase.
We believe that by selecting Visual Realm to design and market your site that you are also investing in us. This is why we believe in tailoring every site to the individual needs of each individual client or business. Visual Realm takes pride in every site we construct which keeps our clients happy and referrals pouring in.
We Continue to Push to Perfection
THE BEST OF BOTH BRAINS
At Visual Realm we combine the analytical with the creative side of marketing and design. The success of each campaign hinges on a mixture of its creativity and logistics. We ask the tough questions. What are the demographics? Is it fresh and engaging? Will it convert? Each campaign and project are scrutinized by left and right brain employees ensuring the optimal outcome.
Your Success is Our Success
Since 2005 we have undertaken thousands of projects and worked with hundreds of different clients in just about every market touched by the world wide web.
Our marketing campaigns have generated millions of dollars in revenue. Clients have watched their ad spend decrease while increasing their traffic, calls, online forms, conversions, social media presence and organic SEO rank.
Don't just take our word for it, let us show you our track record and why it works.
Visual Realm Is Created
Directly out of college, the owner, Kyle Theil, received his first assignment. Visual Realm receives its first check and needs to start an LLC in order to cash the check.
Learned SEO Will Change VR
Literally read the SEO for dummies book. Yes, the yellow book that you buy at Barnes and Noble. Quickly changed out of a fully flash website and built a custom HTML website to rank on google.
Climbed the ranks to rank on google in the top 3 for keywords like "Tampa web design", "Tampa graphic design" and "Tampa logo design". Learned early on when you can rank on google, you dont need to spend on advertising and marketing.
iPhone is Introduced Mobile Sites are born
Flash was no longer going to work on being the wave of the future. Macromedia and Steve Jobs did not agree on the speed and security. Flash was basically killed in the following months.
Custom code HTML websites start to take shape with the use of CSS to make them "mobile responsive.
Custom HTML Morphs to WordPress
Google changed the game (and continues to) on how you rank on google. Staying on top of the trends we produce unique fresh content for Google to digest.
Growth in custom WordPress websites starts to explode. We stay ahead of the game and transition every site going forward to be WordPress.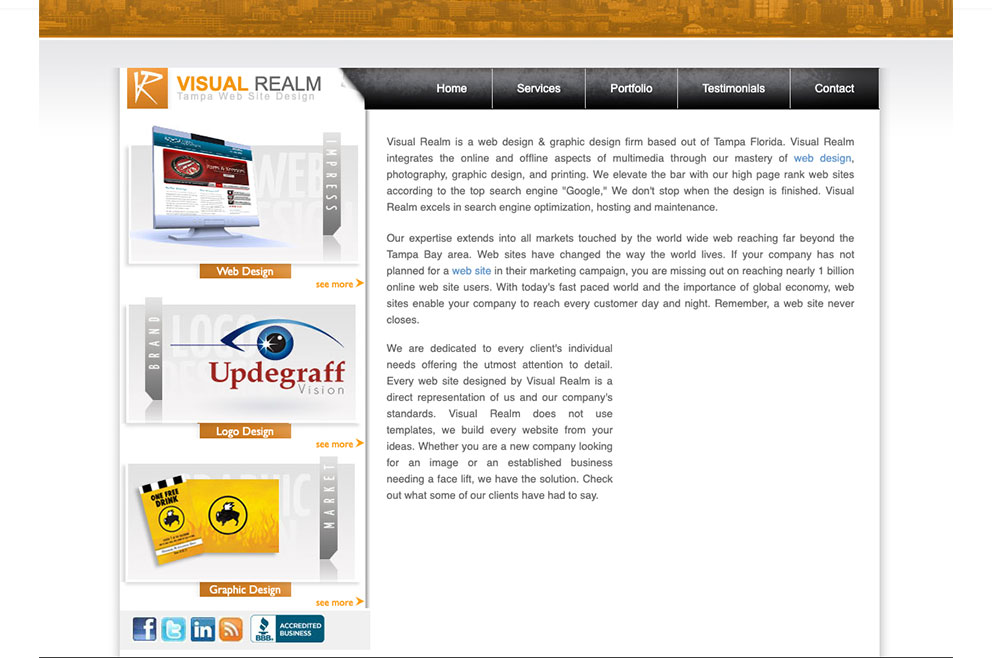 Transition to A Marketing Firm Begins
Understanding how much SEO had changed the path of Visual Realm. We started the transition to being a full service marketing company. The idea of anybody is going to be able to make websites in the future, so we decided to morph into a marketing company that offers web design, seo, graphic design, etc. What the point of website if no one sees it?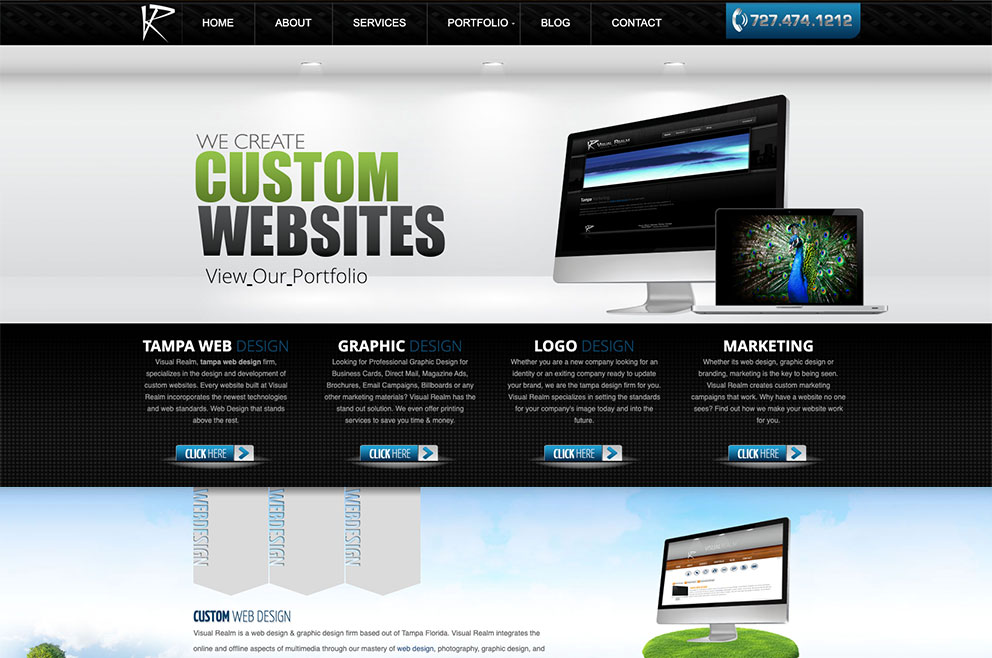 Growth Explodes through Tampa Bay
Working with some of the largest brands/companies in Florida and the United States.
VR First Major Partnership
Visual Realm and team focused on building a local Spine Surgery Practice with an equity stake in the company. We help take the company from $4 million to $20 million in 3 years.
VR Second Major Partnership
Visual Realm* again takes stake in local company
Your Still Here. Congrats
As you can see from above we have been in this game and can compete with the best in the country in what we do. From building brands to helping form massive corporations, we can do it all.
You've spent long enough reading all of this. Contact us to continue the conversation in person. We can take for days about what we can do for you and your company.