The Importance of Google Maps for Local SEO
It's no secret that SEO (Search Engine Optimization), or appearing in search results for your desired keyword, is important to grow your business. After all, what good is a website if no one can find your business?
While most people are familiar with the basics of SEO, there is one lesser-known element that can be particularly important for businesses with a brick-and-mortar location: Google Maps. This is extremely important for customers searching on mobile devices as they can get one-touch directions or click to call.
Google Maps Search Engine Optimization
Google Maps is a mapping service provided by Google that enables users to find local businesses and get directions to them. It is an incredibly powerful tool and one that should not be ignored when trying to optimize your web design for local Google search results (SERPS) and keywords. It displays your business information including a business description, business hours, and detailed business products and services.
Here's a closer look at why maps matter for local SEO and how you can make sure your business appears when people are searching for products or services in your area.
What is a Google Map Citation?
A Google map citation is a citation that appears on other websites or business directories. It includes the name of the business, the address, and the phone number (NAP). It may also include a website link. A citation can help customers get your business information, and it can also help improve your Google ranking. In order to add a citation to your business, you will need to create a profile.
You can do this by going to google.com/business and following the instructions to verify your business. Once you have created your profile, you can add a citation by editing your listing and adding the appropriate information, including your physical address. This can be done on a desktop computer or mobile device.
The Role of Google Maps in Local SEO
Maps appear in two different places on the search engine results page: the main organic listings and the "Local Pack." The Local Pack is a collection of three local businesses that appear at the top of the page above the organic listings, and it is generated based on the searcher's location and query.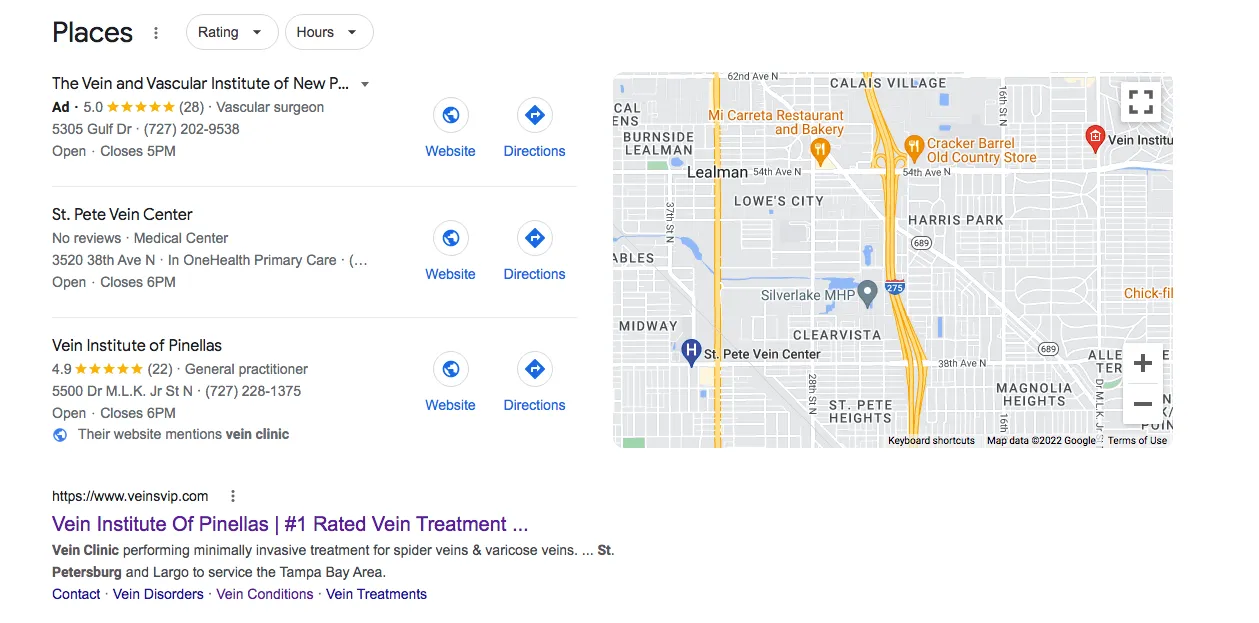 Getting Found From Google Maps SEO
For example, if someone searches for "pizza delivery near me," they will see the Local Pack results before they see any organic results. This is known as local intent. Google's recent updates prioritize intent in order to deliver better search results for their customers.  Local intent refers to the intention of a user to find information or services within a specific geographic location, such as a city or neighborhood. For example, if a user searches for "pizza restaurants near me," their intent is to find pizza places that are in close proximity to their current location. Google's updates prioritize intent by analyzing the user's search query and understanding what they are trying to accomplish. This allows Google to deliver more relevant and personalized search results that meet the user's needs. With the increasing importance of local search, businesses that follow best practices and cater to local intent can improve their visibility and attract more customers in their area.
Get Your Business in Search Results From Local Rankings
This makes sense when you think about it; after all, what good are organic results if the searcher isn't even close to your location? The Local Pack, on the other hand, only displays businesses that are in close proximity to the searcher, making it much more likely that they will visit one of those businesses. This is a valuable feature for local businesses that rely on foot traffic, as it allows them to be easily discovered by potential customers who are searching for relevant products or services in their area. The Local Pack typically appears at the top of the search results page, making it highly visible and increasing the likelihood of clicks and conversions. For businesses that are looking to improve their local SEO efforts, optimizing their Google My Business profile is key to appearing in the Local Pack and increasing visibility among local searchers.
Optimize Your Google Business Profile Listing (Formally Known as Google My Business)
In order to appear in the Local Pack for your desired keyword, your business must have a verified Google Business Profile listing. Your GBP, previously GMB listing is what tells Google your business' name, address, phone number, hours, website, etc. Once you have claimed and verified your listing, you will want to make sure all of your information is accurate and up-to-date; otherwise, you run the risk of losing out on potential customers who may go to one of your competitors instead.
Reviews Are Extremely Important In Local Search
Besides appearing in the Local Pack, having a GBP also allows you to collect reviews from customers, which can be displayed on both your GMB listing and your website (assuming you have implemented proper Schema markup). Positive customer reviews not only improve click-through rates and show prominence —they also help improve your organic rankings over time and help you rank higher on google maps.
When customers leave reviews on your GBP, they are also giving you valuable feedback that you can use to improve your business. Perhaps there is a negative review left by someone who didn't receive their pizza as quickly as they would have liked. In this case, you would know to adjust your delivery times so that future customers don't have the same experience.
Respond to Every Google Business Profile Review
Business owners also underestimate the importance of responding to reviews. Responding to Google reviews is a great way to build trust and credibility with customers. By taking the time to respond to reviews, you are showing that you value your customers' feedback and that you are willing to work to improve their experience. Google takes response times and weather the user is a local guide or not into consideration. In addition, responding to positive reviews can help to boost your business's image and encourage potential customers to give your products or services a try.
Build Trust and Rapport With Google Local
Aside from building trust and rapport with your customers and potential customers, responding to your Google Business Profile reviews, whether they are 5 stars or 1 star, sends Google a signal that your business is alive and thriving. In essence, you are telling Google that you paying attention.
Give More Information About Your Business Location To Help Google Ranks
This is also a great chance for you to add some valuable information about your business back to your customers. You may tell them about other services you offer, specials you are running, and more. Successful review responses often include keywords and geo-locational signals.
Think of Google as a business. They are in the business of providing results to their customers, aka "Google Searchers." If they do not provide the best results they can to their customers, their searchers may use another search engine.
Google has created a complex algorithm, that is ever-changing to help display results for each customer's search query on Google searches. Google uses this algorithm to determine its ranking factors. Responding to reviews is part of this algorithm, along with many of the other points in this blog post.
How to Optimize Your
GBP (GMB) and Local SEO Tips
1) Claim Your Business Listing
The first step in ranking on google your listing is to claim it. To do so, simply search for your business on maps.google.com and click on the "Claim this business" button.
Once you've verified your business by claiming your listing, you'll be able to add important information like your business name, address, including street, city and zip code, and hours of operation. This is especially important if you have a physical location. You'll also be able to upload photos and manage reviews.
2) Add Keywords To Google Local Listing
Once you've claimed and verified your listing, it's time to start adding your information. Keywords are the words or phrases that the population use when they're searching for a business like yours and improving your Google Maps Ranking. For example, if you own a pizza restaurant, some of the words you might want to include are "pizza," "delivery," and "Tampa."
Include these words in your business name, address, and categories field. You should also use them throughout your description. Remember to use keywords naturally—stuffing them into your listing will not only turn off viewers but could also get you penalized by Google.
3) Optimize Your Photos
Photos are an important part of any local SEO campaign—especially when it comes to Google Maps listings. Before you upload photos, make sure they're high-quality and relevant to your business. Then, add captions and tags with relevant keywords. These tags will help Google understand what's in each photo and could help your listing show up in image searches.
Photo Location Metadata
Photos taken on most smartphones also include location metadata encrypted as EXIF, Exchangeable Image File. Since this information is stored in each photo as readable data, many SEO marketing agencies believe Google can read this data thus receiving geo-locational signals connecting your listing to that place.
4) Encourage Customer Reviews
Customer reviews play a big role in local SEO—the more positive reviews you have, the higher your ranking will be.So how do you get them? The best way is simply to ask! Send an email or postcard to recent customers and let them know that you'd appreciate a review.
You can also include links to review sites in follow-up emails after someone makes a purchase from you or interacts with your business in some other way. Just make sure you're not paying for reviews—that's against Google's guidelines (not to mention unethical).
5) Add Posts to your Profile
Many business owners are familiar with adding posts to social media and blog posts to their website, but did you know it is important to add posts to your GMB profile too?
If you manage a Google My Business profile, you know that one of the most important things you can do is to keep it updated. Regularly adding new posts helps to show your audience that your business is active and engaged. It also gives you an opportunity to share relevant information about your products, services, and special offers.
Keyword Rich Content
In addition, adding posts to your GMB profile can help you to boost your SEO. When you add keyword-rich content to your posts, you're giving search engines more opportunities to index your website. As a result, you may see an increase in your organic traffic levels. So if you're looking for ways to improve your online visibility, be sure to add some fresh content to your GMB profile on a regular basis.
In short, GBP should absolutely be part of your local SEO strategy. By claiming and verifying your GMB listing and ensuring that all of your information is accurate and verified, you can help improve both your organic rankings and click-through rates from visitors searching for businesses like yours online.
Google Maps should be an integral part of any local SEO strategy. By claiming and verifying your business profile, formally known as GMB listing, and keeping all of your information accurate and up-to-date, you can help improve both your organic rankings and click-through rates from users searching for businesses like yours online in organic search. When done correctly, getting our busines on  Google Maps can help drive more foot traffic through your door—which is music to any small business owner's ears!