WEB DESIGN COMPANY IN TAMPA
Since 2005, Visual Realm has been the front-runner in Tampa web design with our beautifully branded, user-friendly, unique websites. We build purposeful websites that engage users and sell products. Being a digital marketing agency, we understand the importance of brand awareness, ease of navigation, proper use of click-throughs, on-page marketing, and search engine optimization. Our web designers are digital marketing experts who have done web design for Tampa Bay customers to California and everywhere in between.
Web Design That Converts
Web design is the fastest-growing form of all media. From the Internet's limitless knowledge to its vast mobility, customers are now looking toward the web to find almost everything. Over 90% of consumers visit a company's website before making their purchase. Having an attractive, user-friendly website is paramount to a great first impression and the key to every company's internet marketing success. Tampa, FL is our home base but marketing services, social media, website design and development, email marketing and all other online services can be applied to any genre and location to reach your business goals.
Tampa Web Designer Services
With Visual Realm web design services, you can launch a website that captures your brand and transforms it into a powerful leads-driven digital success. Our web development services maximize revenue potential by improving user experience through higher conversion rates, an increase in telephone leads, and more digital inquiries.
Web Design Company
Tap into the industry-leading expertise of our strategists by contacting us today for tailored solutions specifically catered to fit your business needs and industry best practices.
Visual Realm Websites Are Built Different.
"We have had a tremendous increase in business thanks to their knowledge of SEO, and ad campaigns. We had no idea what we were missing until they took over. I can not say enough about how awesome and attentive they are. We have constant communication and they are very responsive to our every need. It is so nice knowing that they care about our business as much as we do!"
-Current Home Services Client
What it means to be SEO Focused
Visual Realm understands how critical SEO-focused web design is for businesses to succeed online. By building SEO-optimized websites, we ensure that potential leads can easily find our clients' websites on major search engines.
Robust Online Presence
Our SEO-focused web designs contain intricate processes designed to leverage relevant keywords, optimal user experience, optimized multimedia elements, backlinks from industry sites, and more to seamlessly generate more organic leads.
Digital Marketing Agency
Moreover, by utilizing the latest SEO best practices advised by Google, our SEO-focused web designs simply outperform other traditional website designs. Regardless of the size and scope of your business, SEO-focused web design from Visual Realm helps you realize maximum lead generation without relying on advertising.
Design That Fits Your Brand
An effective branded website design is one of the most powerful marketing tools any business or organization can have.
Creative Agency
By creating a branded design that reflects your company identity and conveys the right message to your target audience, you can gain brand recognition, build trust with customers, and increase conversions.
Tampa Web Design Team
From determining color theory to leveraging UX design principles, branded web design takes all elements into consideration to ensure it fits perfectly with what your brand stands for.
Therefore, investing in branded web design is key to increasing brand recognition and showcasing the core of your company in every aspect of the website.
Build Trust
Increase Conversions
Become Recognizable
Convey Your Message
Our Understanding Of Web Site Structure For SEO Sets Us Apart
At Visual Realm Web Design Firm, website structure is a top priority when creating custom websites.
Internet Marketing
Our understanding of the importance SEO plays in a website's structure sets us apart from the rest. We recognize that website structure is key to ensuring that webpages load quickly, which is vital for search engine visibility and user satisfaction.
Search Engine Optimization
Additionally, our expertise in organizing pages according to SEO-friendly silos helps search engines quickly recognize a website as relevant to key searches performed by users.
Search Engine Marketing
By allowing us to focus on your site's design and structure, you can be sure that your visitors will find what they are looking for quickly and effortlessly.
—
Web Design Tampa
Web Designers
Established in 2005, Visual Realm is a full service agency and has been providing web design services to businesses all over the Tampa area for over 18 years.
Tampa Web Design Company
We specialize in digital marketing strategies such as user experience, mobile-friendly designs, SEO-focused content writing, and color theory.
Mobile Friendly Designs
At Visual Realm, we understand that more and more people are using their phones and tablets to access websites. That is why we focus on creating mobile-friendly designs that display perfectly no matter what device you are using.
Attract Potential Customers
Our designs are optimized to be easy to use and navigate while still looking great on any device. This means you can rest assured knowing your website will look great no matter where it is being viewed from.
SEO Focused Content Writing
Our content writers specialize in SEO focused writing which helps increase the visibility of your website online.
Search Engine Optimization
We research the most effective keywords for your website and strategically place them throughout your content so that it reads naturally while also helping boost your rankings on search engines such as Google or Bing.
User Experience
We understand that user experience is key when it comes to keeping visitors on your website longer and increasing conversions. Our team of designers carefully craft each page with the user experience in mind, making sure every page is designed logically with an intuitive navigation system so that visitors can easily find what they need without getting lost or confused.
Color Theory
The colors you choose for your website can play a huge role in how people feel about it and interact with it. We use color theory when creating our web designs to make sure the right colors are being used to create the desired effect; whether that be a calming atmosphere or an energizing one, we have you covered!
Importance of Google Analytics
Utilizing analytics to understand user habits is essential for successful web page. Google analytics provides users with the tools they need to identify trends in customer click throughs, providing valuable insight into how customers interact with your website.
With analytics, a web designer can uncover what parts of their websites have the most traction or which pages may be underperforming, allowing them to adjust and optimize for better engagement. This ability to track customer interaction data can help shape an effective and efficient digital experience that customers are sure to enjoy.
More than just marketers, business partners
An online marketing team should always be more than just a company and its employees; it should be a true partnership comprised of people who are experts in the online advertising field.
A successful web design Tampa online marketing strategy requires true collaboration between the parties involved, where each brings their individual strengths to the table. When implemented correctly, this model allows the different elements of online marketing to come together in such a way as to be greater than any individual component.
It is this synergistic effect that makes having the right online marketing team so important, as it can help an organization reach its online goals far more easily and quickly than if it were working alone.
Web Design Services
Visual Realm has been providing web design services to businesses all around Tampa since 2005 and we continue to offer top-quality services today.
Our expert team focuses on mobile-friendly designs, SEO-focused content writing, user experience, color theory, and more when crafting beautiful websites for our clients who want their business's digital presence to stand out from their competition. Contact us today if you would like our help creating a stunning website for your business!
Full Service Digital Marketing Agency
Full-service digital marketing agencies provide a wide range of services to help businesses grow online. Services can include anything from website design and development to SEO, pay-per-click, social media marketing, and email marketing.
Marketing strategies can be a great resource for business owners that are looking to expand their reach and grow their customer base. Our web designers can help with everything from developing a marketing strategy, to implementing the plan and tracking results. We stay on focus and help your business look forward to keeping ahead of your competition.
FAQ
Will my web design look like someone elses?
Kyle Theil
2022-12-29T23:18:51-05:00
No, we custom design our websites. We want your website to be as unique as your business. Every website is designed with the individual customer in mind, taking into account their specific needs and goals.
We take the time to learn about your business and what you hope to achieve with your website before starting the design process. This helps ensure that your website not only looks great, but also functions well and achieves your goals. We believe that custom web design is key to a successful online presence, and we are committed to providing our clients with high-quality websites that exceed their expectations.
Will you help with website hosting and going live?
Kyle Theil
2022-12-29T23:13:05-05:00
Yes, we help get your website live. We offer a range of solutions based on the amount of traffic your website receives. For smaller sites, we have a shared hosting solution that is very affordable and includes all the basics you need to get started. For larger sites, we have more robust options that include greater storage capacity and bandwidth as well as additional features like a CDN and enterprise level security.
How to Choose A Web Design Company?
Kyle Theil
2022-12-29T23:14:12-05:00
There are a few key things to look for when choosing a web design company. First, make sure they are experts in building the correct web structure for your business. Too often, companies focus on looks, price and features rather than on the website's underlying structure, without considering the long-term impact of their decision. This can lead to all sorts of problems down the road, such as bloated code, slow-loading pages, and a general lack of ability to be found on search engines.
A well-designed website is more than just an eye-catching front page – it's the foundation of your online presence and can mean the difference between success and failure.
The use of smartphones and devices is not going away anytime soon. It's growing in popularity year after year. Being a front-runner in the mobile world in preparation for the shift we are witnessing is the best way to ensure your online presence and success for years to come.
Tampa Web Design Company
Visual Realm incorporates the newest, most innovative web development technology with years of web design expertise to hand-craft every site. We believe in the importance of a creative research and development team that understands your company's brand. The custom graphic design and web development of every project we create give our clients the most cutting-edge, cohesive, tailored websites on the Internet. Contracting web design services from Visual Realm means every aspect of your site is created specifically for you and helps grow your business.
Knowledge

Marketing Expertise

Research & Development
Customer Service

Responsiveness

Client Retention

Understanding of SEO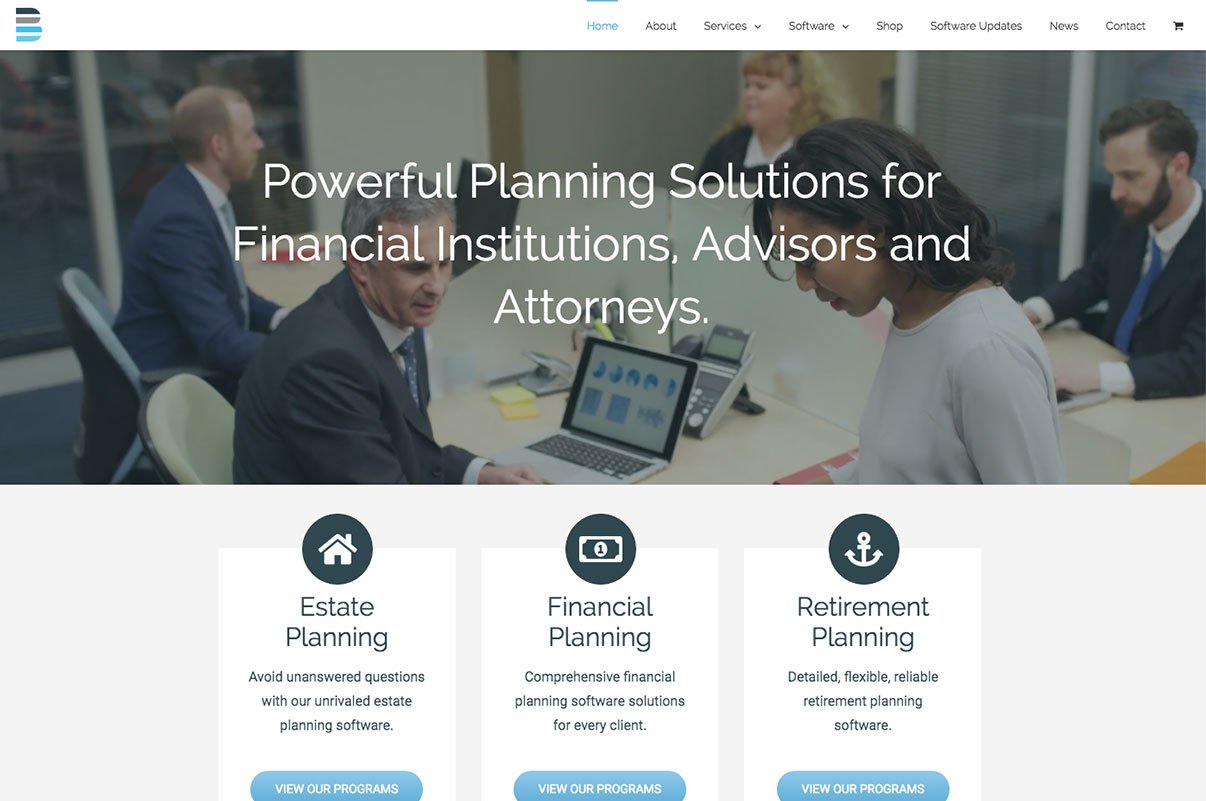 Content Writing
If there is ever a delay in the time frame of the initial web site launch, it's almost always because of the content. Clients are too busy running their business, unsure of what to write, feel unconfident in their writing skills, or want it written to rank on Google specifically and do not know how.
We understand the stress that comes with providing web design content. We offer SEO services, click-through research, on page marketing content for every industry. Meticulously worded, user-intent-guided content is one of the most effective ways to sell your services. Visual Realm's content writing services accompany over 90% of the new sites we build making it one of our most desired add-ons. Your website is only as good as its content, hire the professionals and see what a difference it can make.
What Web Design Software Do We Use?
Starting as a web design agency, Visual Realm built websites in Flash. We learned custom web development code, ui / ux and that knowledge is what separates us from other web developers today. As a web design company We switched to WordPress for several reasons, but originally it was to give our clients a content management system that they could easily update their web design on their own. As the WordPress team continued to develop, we started using it exclusively for these (and many other) reasons.
1. Size. WordPress is the largest platform of its kind on the internet over 61% of the market share. Over 1/3 of all websites online are WP and counting as 50,000 new WordPress websites are being launched each day.
2. Security. With millions of contributors to the open-sourced web design platform, it thrives on updates and patches to consistently tighten and enhance security. Therefore the software always has the most up-to-date security, unlike custom web sites that are outdated the minute they push live. These sites are often left vulnerable due to the speed at which technology is advancing on the internet.
3. Customizable. Coming from a custom code background, this is a big one for the team at Visual Realm. We believe websites should effectively reflect a company's brand, make a statement and be customized to each customer's individual wants and needs. With ways to add just about anything under the sun, from media galleries to eCommerce stores or social media connectivity to intense client portals, WordPress is a great platform for every type of business.
4. Great for SEO. WordPress isn't a bulky, overly coded platform. It is built with SEO in mind and this is a big reason we can stand behind it. From the inception of Visual Realm, SEO has been a cornerstone of our business. Search Engine Optimization is a complex algorithm developed by Google to rank web pages for specific keywords. WordPress is SEO friendly, unlike other website builders out there, meaning it will not hinder your chance of ranking because of the way it was built.
5. E-commerce. WooCommerce, one of the most popular eCommerce plugins available today, you can be sure your online store will be a success. From product pages and shopping carts to checkout processes and shipping options, WooCommerce has everything you need to get your online store up and running.
Website Hosting
We offer hosting packages to our clients upon completion. We host the fastest, most reliable servers. Our hosting service enables you to have an extra level of security and care for your website. With monthly updating and service required for even the most simple websites, our clients love the benefit of having Visual Realm take care of it all. We also understand clients who want their website on their own hosting server. We will happily push it live wherever the client requests.
When a company hosts with us they receive:
SSL certificate to securely encrypt their website
Monthly security screening
Backups of their site content and design
WordPress managed hosting
Updates for WordPress platform as they are released
Updates for plugins to keep site from being hacked
Immediate fixes from broken plug-ins or WordPress updates